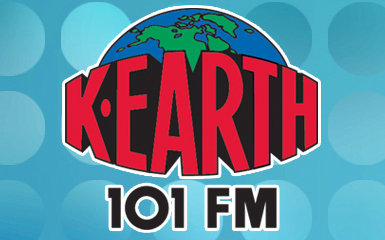 Sylvia began her fun career at awesome KNAC (see below), followed by several on-air gigs on Los Angeles & OC radio — including 10 years doing morning drive at KBIG 104.3 and ten years on KEARTH 101.

Good times, good times. 🙂
CHECK HER OUT
KEARTH Air Checks

Sylvia Aimerito began her stellar radio career as a DJ on the classic Long Beach radio station KNAC.  During her time there the station went from an 'underground rock' station to a 'New Wave' station – breaking bands, highlighting American rockers and 2nd British Invasion artists, and promoting local bands, too.  
In the summer of 1984, Cherine, a friend and fan of KNAC, recorded dozens of Sylvia Aimerito's final KNAC radio shows.  Years later she gave Sylvia the cassettes of those shows.  All the music, the Rock N Rhythm jingles, commercial breaks…everything. (BTW, Sylvia's biz partner and co-owner of AudioGirl Productions Lori Rae Martin wrote the KNAC jingles and that's her singing lead.)  
Sylvia says of her time on KNAC, "It was thrilling to be the mid-day DJ on Rock N Rhythm KNAC.  I was privileged to be part of radio and music history as we helped introduce the second British Invasion, broke local bands, played deep cuts from albums, mixed in Motown and '60's music with groups like X, Oingo Boingo, and The Plimsouls; we were free form radio within our original, one-of-a-kind format. Those days of letting the DJ "feel" the mood of the day and program the music to fill the wants of their listeners is gone.  But hey, I got to experience it and, if you were a fan of Rock N Rhythm KNAC, well then you did, too!"  
Follow Sylvia on Twitter @RockNRhythm KNAC, and Facebook so you'll know when more shows are added.  
"Enjoy the music and the flashback to the Summer of 1984 on Rock N Rhythm 105.5 KNAC-ya"
Sylvia Aimerito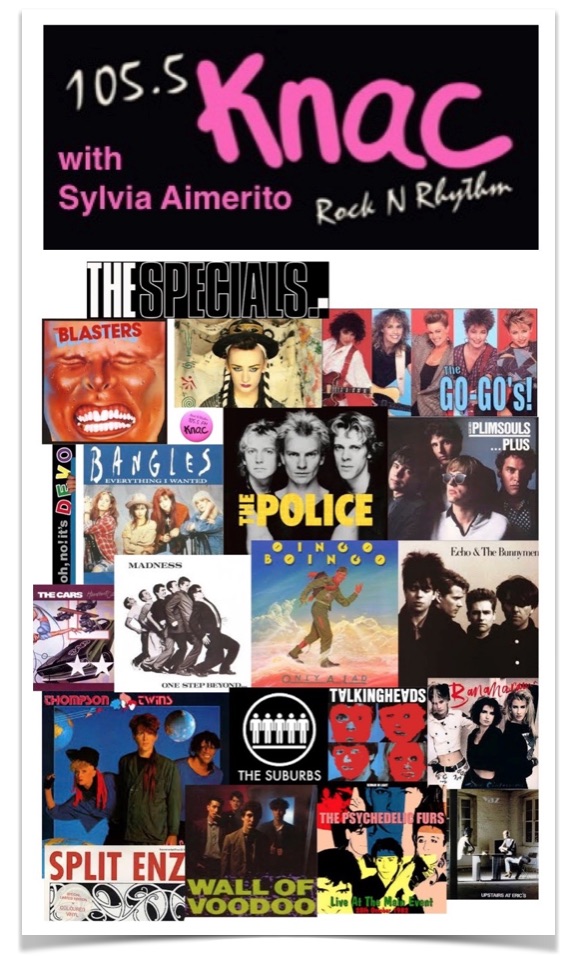 KNAC Show #1 – From the Summer of 1984
Side A
Side B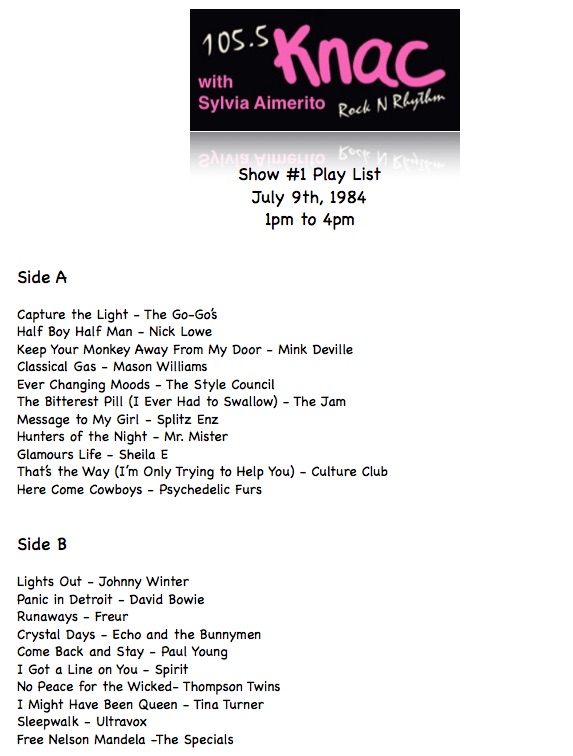 KNAC Show #2 – From the Summer of 1984
Side A
Side B